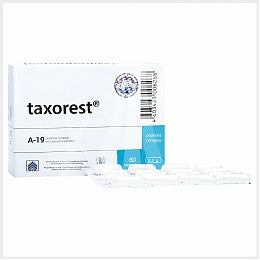 Taxorest (Bronchi)
Taxorest is a dietary supplement with natural bronchial mucous peptides. It normalizes the function of the bronchi by reducing their peptide deficiency and restoring protein synthesis inside their cells.

The respiratory system transfers oxygen into the blood and removes carbon dioxide. In order to function properly, the body needs a sufficient supply of oxygen. Only four minutes without it can cause permanent damage to the brain. Thus, it is crucial to keep the respiratory system healthy by avoiding injuries, inflammation, and infections, as well as supporting the bronchial mucous.

Taxorest is recommended for everyone whose bronchi may be compromised, especially people with chronic bronchitis, bronchial asthma, smoker's cough, chronic obstructive pulmonary disease, and chronic cardiac failure.

Taxorest can be easily combined with other supplements and medicines and should be used in addition to conventional medical treatments.

Ingredients: bronchial mucous peptides, microcrystalline cellulose, gelatin, lactose, calcium stearate.

Directions: 1–2 capsules two to three times daily, 30 minutes before meals. Duration: 1 month. Repeat every 3–6 months.
---
---
We Also Recommend