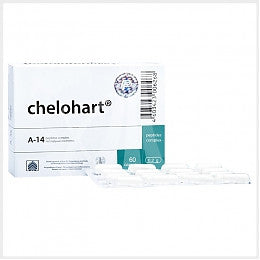 Chelohart (Heart)
Chelohart is a dietary supplement with natural cardiac muscle peptides. It normalizes the function of the heart by reducing its peptide deficiency and restoring protein synthesis inside its cells.

The heart is one of the most important organs in the entire human body. The heart pumps blood, which carries oxygen and nutrients to cells. The blood also removes carbon dioxide and waste products to keep the body healthy. Because heart disease is the leading cause of death in both men and women, it is very important to ensure that the heart functions properly.

Chelohart is recommended for everyone over 40, especially people with heart related diseases such as myocardial hypertrophy, myocarditis, myocardiodystrophy, coronary artery disease, primary hypertension, and heart failure.

Chelohart can be easily combined with other supplements and medicines and should be used in addition to conventional medical treatments.

Ingredients: heart peptides, microcrystalline cellulose, gelatin, lactose, calcium stearate.

Directions: 1–2 capsules two to three times daily, 30 minutes before meals. Duration: 1 month. Repeat every 3–6 months.
---
---
We Also Recommend