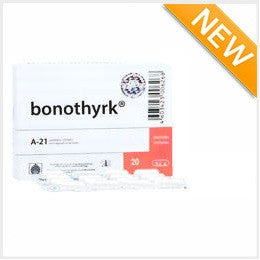 Bonothyrk (Parathyroid)
Bonothyrk is a dietary supplement with natural parathyroid peptides. It normalizes the function of the parathyroid glands by reducing their peptide deficiency and restoring protein synthesis inside their cells.

Parathyroid glands' most important function is to maintain healthy levels of calcium and phosphate, which are essential for the proper function of the nervous and musculoskeletal systems.

Bonothyrk is recommended for everyone whose parathyroid glands may be compromised, especially people with hyperparathyroidism, hypoparathyroidism, bone loss (osteoporosis), and vesical calcification.

Bonothyrk can be easily combined with other supplements and medicines and should be used in addition to conventional medical treatments.

Ingredients: parathyroid gland peptides, microcrystalline cellulose (E460), beetroot sugar, lactose, starch, Tween-80.

Directions: 1–2 capsules two to three times daily, 30 minutes before meals. Duration: 1 month. Repeat every 3–6 months.
---
---
We Also Recommend